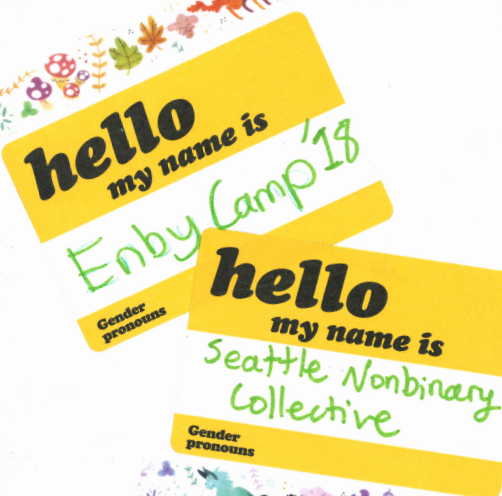 Enby Camp Zine
Within the United States, the cultural status conferred upon (binary- and usually cis-gendered) organizations like Boy Scouts and Girl Scouts as the primary gateway to many young people's first experiences with the outdoors--as well as the nature (pun intended) of the recreational camping/hiking industry necessitating some degree of financial investment in order to access, much more so comfortably enjoy, the outdoors--means that many queer folks, growing up, may not have had good experiences with exploring the natural world, if they were even able to access them at all.
For a few days in late summer 2018, a couple dozen nonbinary and genderqueer folks met up at a local campsite in Seattle, WA to meditatively enjoy a slice of the "classic summer camp experience"--complete with spooky bathroom noises, late-night chats with randomly assigned cabin mates, campfire snacks, and educational workshops on the nature of the outdoors AND the nature of being queer.
This is the digital, full-color version of a physical zine I crafted and printed to celebrate this camp event, which was hosted by the Seattle Nonbinary Collective. I started the zine during camp itself, of my own initiative. A handful of attendees directly contributed to the zine on-site via photos, journal entries, and drawings; all contributors are credited within the zine itself.
A small number of physical B&W zines were created and distributed for free to the camp attendees/zine contributors. With the digital version, you can read it on the screen directly and/or you can print, fold, and staple your own booklet zine of it (thanks to the double-sided pages file--reference the other document to see intended page order).
Purchase
In order to download this zine you must purchase it at or above the minimum price of $1 USD. You will get access to the following files:
EnbyCampZine2018 - readable version.pdf
73 MB
EnbyCampZine2018 - double-sided printing version.pdf
37 MB